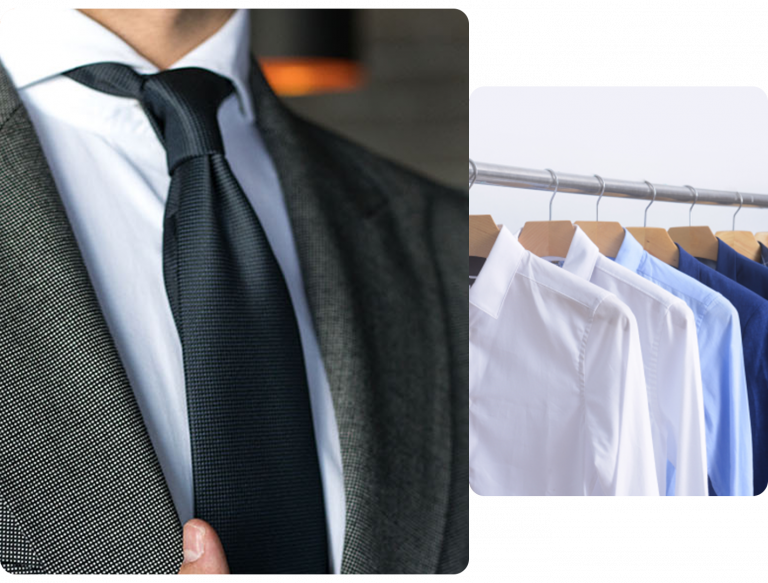 5àsec has developed this expert treatment to guarantee a professional 'freshly ironed' effect that lasts longer while protecting your textiles the "5asec way"
Our finishing treatment makes the freshly ironed effect last longer, so that your suits, shirts, trousers, and dresses stay soft, neat and wrinkle-free and, with no shine marks.
The crease-resistant treatment is particularly appreciated by frequent travelers (plane, train) and commuters as well as executives.
Finishing is a thin layer applied to your garment in order to improve its shape. It also revives the colors of your items while preventing stains from becoming embedded. For optimal results, the treatment should be done after each cleaning.

We wash your laundry and your laundry bag. Instead of working with plastic bags, we provide you with your own laundry bag, which you can conveniently fill and pass over to us when we collect your items or you drop your order in-store. We then wash your items and your bags and deliver it back to you to start the cycle again.



Our team is available if you require any advice on the best service for your garments
For optimal results, This treatment should be done after every use.
Items will be clean and steam pressed
Up to 7 items per bag
Items cleaned according to care label instructions 
Use of EU Ecolabel certified chemicals 
No use of PERC, chlorine or phosphates
Service Charge between AED5 to AED10 based on the pickup address on all orders AED150
Service Charge between AED5 to AED10 based on the pickup address on all orders AED150
Frequently Asked Questions