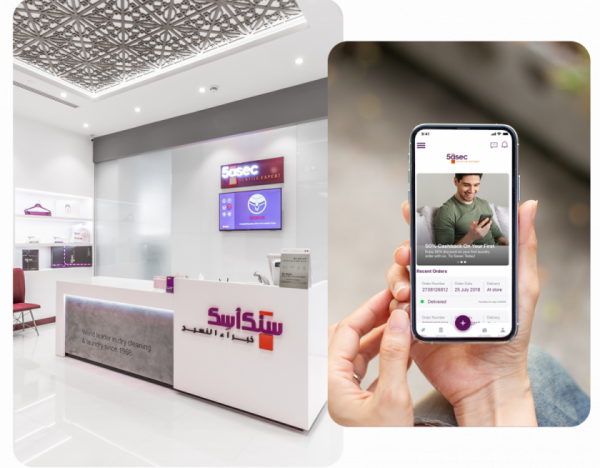 We are committed to offer consistent, transparent, and fair prices to our customers. Our garments are priced according to their approximate weight and dimensions, along with the usual complexity of the fabric and the service required.
All prices are exclusive of 5% VAT.

Service Charges between AED 7 to AED 10 based on the pickup address on all orders under AED 150.

Service Charges of AED 5 for orders under AED 150 dropped off at any 5asec store.
| | |
| --- | --- |
| Wash & Fold | Price |
| 1 Bag | 62.00 |
| 3 Bags (Monthly Plan - AED54 per bag) | 160.00 |
| 5 Bags (Monthly Plan - AED48 per bag) | 240.00 |
| | |
| --- | --- |
| Bag Size | Price |
| Small | 100.00 |
| Medium | 240.00 |
| Large | 525.00 |
| XLarge | 765.00 |
| | | |
| --- | --- | --- |
| Shoe Types | Adults | Kids |
| Belt | 48.00 | 34.00 |
| Canvas Shoes | 80.00 | 53.00 |
| Arabic Sandals | 80.00 | 53.00 |
| Open Toe | 80.00 | 53.00 |
| Sports Shoes (Sneakers) | 100.00 | 67.00 |
| Leather and Suede | 115.00 | 81.00 |
| Boots | 145.00 | 100.00 |
| | |
| --- | --- |
| Restoration Services | Price |
| Bags | from 80.00 |
| Shoes | 50.00 |
| | | | |
| --- | --- | --- | --- |
| Tops | Press Only | Clean & Press | Maxima |
| T-Shirt | 9.75 | 13.50 | 17.25 |
| Top | 11.00 | 15.50 | 20.00 |
| Polo Shirt | 11.00 | 15.50 | 20.00 |
| Shirt | 12.50 | 18.00 | 21.00 |
| Blouse | 12.50 | 18.00 | 21.00 |
| Sweater | 16.00 | 23.00 | 27.00 |
| Cardigan | 15.00 | 21.00 | 27.00 |
| Pleated Blouse | 18.00 | 23.00 | 31.00 |
| | | | |
| --- | --- | --- | --- |
| Bottoms | Press Only | Clean & Press | Maxima |
| Beach wear / Sports wear | 9.00 | 12.00 | 18.00 |
| Shorts | 12.00 | 17.00 | 20.00 |
| Skirt Short | 11.00 | 16.00 | 20.00 |
| Jogging Pants / Leggings | 12.00 | 16.00 | 20.00 |
| Trousers | 13.50 | 19.00 | 24.00 |
| Jeans | 12.00 | 15.00 | 24.00 |
| Skirt Long | 13.00 | 18.00 | 24.00 |
| Pleated Skirt | 20.00 | 27.00 | 37.00 |
| | | | |
| --- | --- | --- | --- |
| Dresses & Jumpsuits | Press Only | Clean & Press | Maxima |
| Summer Dress | 14.00 | 18.00 | 23.00 |
| Jumpsuit Short | 21.00 | 31.00 | 39.00 |
| Casual Dress | 26.00 | 38.00 | 46.00 |
| Pleated Dress - Casual | 31.00 | 48.00 | 62.00 |
| Formal Dress | 46.00 | 58.00 | 81.00 |
| Pleated Dress - Formal | 60.00 | 79.00 | 91.00 |
| Evening Gown | - | - | 134.00 |
| Wedding Dress - Regular | 334.00 | - | 429.00 |
| Wedding Dress - Large (Ball Gown Dress) | 534.00 | - | 572.00 |
| | | | |
| --- | --- | --- | --- |
| Suits & Jackets | Press Only | Clean & Press | Maxima |
| Waist Coat | 11.00 | 14.00 | 20.00 |
| Track Suit (2pc) | 11.00 | 18.00 | 24.00 |
| Track Suit Fashion (2pc) | 20.00 | 27.00 | 39.00 |
| Suit Jacket | 28.75 | 42.00 | 52.50 |
| Suit (2pc) | 36.25 | 52.50 | 71.50 |
| Jacket (Outerwear) | 35.00 | 43.00 | 58.00 |
| Winter Coat | 43.00 | 58.00 | 77.00 |
| Suit (3pc) | 43.00 | 62.00 | 81.00 |
| | | | |
| --- | --- | --- | --- |
| Traditional Items | Press Only | Clean & Press | Maxima |
| Ghatra | 8.00 | 11.00 | 14.00 |
| Lungi | 11.00 | 15.00 | 23.00 |
| Kandoura | 14.00 | 19.00 | 29.00 |
| Abaya | 13.00 | 18.00 | 29.00 |
| Jalabiya | 13.00 | 18.00 | 29.00 |
| Salwar Suit/Khamis | 27.00 | 39.00 | 48.00 |
| Sari | 27.00 | 39.00 | 48.00 |
| | | | |
| --- | --- | --- | --- |
| Night & Underwear | Press Only | Clean & Press | Maxima |
| Socks (wash only) | 3.00 | 4.00 | 7.00 |
| Panties / Boxers | 3.00 | 4.00 | 7.00 |
| Bra | - | 4.00 | 7.00 |
| Swimwear | 6.00 | 8.00 | 14.00 |
| Pyjama Top | 7.00 | 9.00 | 13.00 |
| Pyjama Bottom | 7.00 | 9.00 | 13.00 |
| Undershirt / Vest | 7.00 | 9.00 | - |
| Robe | 11.00 | 17.00 | 24.00 |
| Silk Robe | 20.00 | 27.00 | 37.00 |
| Nightgown | 11.00 | 17.00 | 24.00 |
| Pyjama Set (2pc) | 11.00 | 17.00 | 24.00 |
| | | | |
| --- | --- | --- | --- |
| Kids & Babies | Press Only | Clean & Press | Maxima |
| Bib | 2.00 | 3.00 | 5.00 |
| Mittens/Socks | 2.00 | 3.00 | 5.00 |
| Hat / Cap | 3.00 | 5.00 | 6.00 |
| Shoes | 3.00 | 5.00 | 6.00 |
| Tops | 6.00 | 8.00 | 12.00 |
| Bottoms | 6.00 | 8.00 | 12.00 |
| Jeans | 6.00 | 8.00 | 12.00 |
| Blanket | 6.00 | 9.00 | 12.00 |
| Pyjamas (2pc) | 6.00 | 9.00 | 12.00 |
| Dress | 6.00 | 9.00 | 12.00 |
| Jumpsuit | 7.00 | 9.00 | 14.00 |
| Sweater / Cardigan | 8.00 | 10.00 | 15.00 |
| Jacket / Blazer | 10.00 | 12.00 | 23.00 |
| Suit (2pc) | 12.00 | 16.00 | 23.00 |
| Cuddly Toy (Small) | - | 18.00 | - |
| School Uniform | 16.00 | 20.00 | 29.00 |
| | | | |
| --- | --- | --- | --- |
| Home | Press Only | Clean & Press | Maxima |
| Table Napkin | 3.00 | 5.00 | - |
| Pillow Case | 5.00 | 8.00 | 12.00 |
| Face / Hand Towel (wash only) | - | 6.00 | - |
| Bath / Anti Slip Matt (wash only) | - | 9.00 | - |
| Bath Towel (wash only) | - | 9.00 | - |
| Cushion Cover | 9.00 | 11.00 | 14.00 |
| Net Curtain per m2 | 11.00 | 12.00 | 18.00 |
| Curtain per m2 | 13.00 | 18.00 | 24.00 |
| Table Cloth | 14.00 | 20.00 | 33.00 |
| Bed Sheet | 17.00 | 20.00 | 29.00 |
| Blanket | - | 21.00 | 27.00 |
| Bedspread | 16.00 | 21.00 | 29.00 |
| Duvet Cover | 21.00 | 29.00 | 32.00 |
| Pillow - Feather (wash only) | - | 27.00 | 34.00 |
| Pillow - Polyester (wash only) | - | 15.00 | 27.00 |
| Sleeping Bag (wash only) | - | 58.00 | - |
| Duvet | - | 39.00 | 53.00 |
| Single Seat Sofa Cover | - | 20.00 | - |
| Double Seat Sofa Cover | - | 34.00 | - |
| Triple Seat Sofa Cover | - | 48.00 | - |
| Standard Carpet (wash only) | - | 24.00 / Per Sq Mtr | - |
| Premium Carpet - Silk, Wool, Persian, etc. (wash only) | - | 48.00 / Per Sq Mtr | - |
| | |
| --- | --- |
| Linen Care | Price |
| 1 Bag | 70.00 |
| Up to 7 items per bag | |
| | | | |
| --- | --- | --- | --- |
| Accessories | Press Only | Clean & Press | Maxima |
| Handkerchief | 3.00 | 4.00 | 6.00 |
| Hat (wash only) | - | 10.00 | - |
| Tie | 10.00 | 14.00 | 20.00 |
| Scarf | 11.00 | 14.00 | 21.00 |
| Shawl | 14.00 | 18.00 | 34.00 |
| | |
| --- | --- |
| | |
| Finishing | additional 2.00 per item |
| White + | additional 5.00 per item |
| Stain Prevention | additional 5.00 per item |
| Moth Repellent (coming soon) | additional 8.00 per item |
| Dust Mite Repellent | additional 20% of item price |
| Starching | FREE |
| | |
| --- | --- |
| | |
| Cleaning and Preservation with Couture Coffret | 1,620.00 |
| Cleaning and Preservation with Instants Précieux Coffret | 1,486.00 |
| Cleaning and Preservation with Elégance Coffret | 1,372.00 |
| Cleaning and Preservation with Les Essentiels Coffret | 1,167.00 |
| Elégance Coffret (Box only) | 524.00 |
| Preservation Top-Up for Elégance Coffret | 620.00 |
| | |
| --- | --- |
| | |
| Hanger (deposit) | 2.00 |
| Additional Laundry Bag | 15.00 |
| 5asec Garment Carrier (Suit Bag) | 15.00 |