Clean and steam pressing for bedroom linens, bathroom items and table linens.
All for just AED75 per bag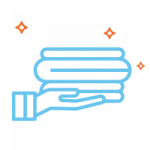 The convenient service for 'Everyday' linens
Fill up the bag with your daily linens and them back feeling fresh and clean. We use harm-free detergents and eco-friendly laundry processes and machines to ensure you the best outcome for your linens.
Eligible items include Bed Sheets, Duvet Covers, Pillowcases, Bed Covers, Bed Spreads, Bathrobes, Bath towels, Hand towels, Bath Mats, Face towels, Blankets, Table Cloths, Napkins
Items will be clean and steam pressed
Up to 7 items per bag
Items cleaned according to care label instructions 
Use of EU Ecolabel certified chemicals 
No use of PERC, chlorine or phosphates
Service Charge between AED5 to AED10 based on the pickup address on all orders AED150
Service Charge between AED5 to AED10 based on the pickup address on all orders AED150
Frequently Asked Questions